Opening after months of renovation, Spanish restaurant La Cocina, helmed by the Lapis group, has undergone something of a reinvention.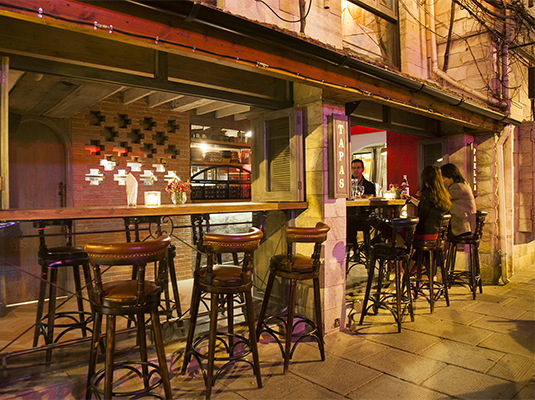 The restaurant retains its pleasant street-side window seating, but also has a chilled out new terrace in the back. It's outfitted with stones and wood, a fusion décor the combines the vintage Chinese motifs of the area – it is housed in what used to be a villa for Shanghai's elites – with the atmosphere of a laidback cocktail lounge.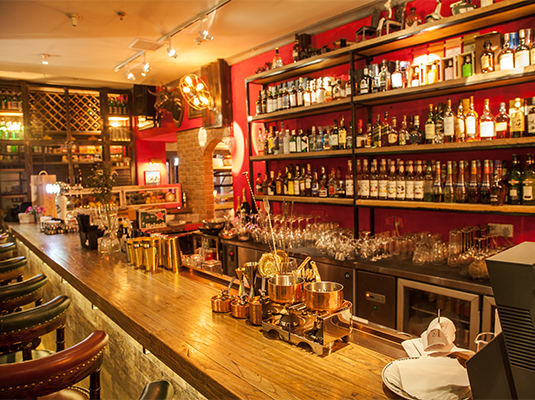 Food and drinks will be served until around 02:00 from a menu that reflects La Cocina's position as a unique new night-life spot and a meeting place of old and new.

The drinks list has been revamped to include an impressive array of cocktails that artfully realize a sophisticated concept - modern cocktails influenced by classical Chinese tea culture. The drinks come are coming out superb and are sure to delight Shanghai's ever-growing circle of cocktail lovers.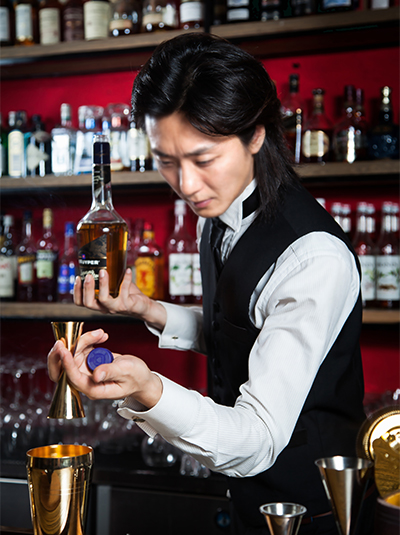 This concept comes from Jarvis, La Cocina's Taiwanese master mixologist and tea guru who expertly melds high-end champagnes and whiskeys with fine Chinese teas and Yun'nan herbs. It isn't just the ingredients either – the creation of these cocktails is a performance in itself, with Jarvis elegantly preparing and pouring with all manner of instruments and presenting them in a manner reminiscent of ancient tea ceremonies. Presented in the same antique vessels as these same teas, they are as enjoyable to see and admire as they are to sip.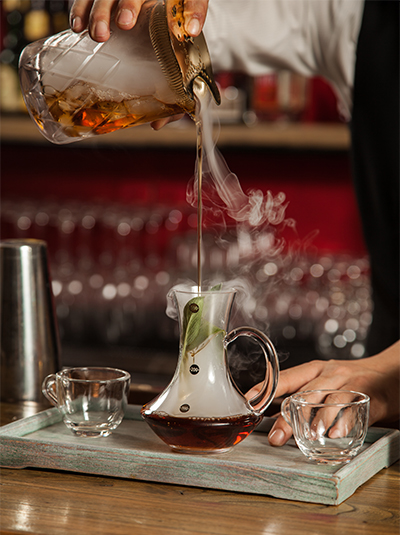 The cocktails are indeed satisfyingly complex and uniquely delicious. The SEO Dark Hat is made with Hennessy, Jack Daniels, Fireball cinnamon whiskey and just a dash of Malibu and kahlua. It packs an appropriately strong punch, but this is offset by the addition of fresh lavender, cinnamon and coffee beans that provide a soothing, delicate balance.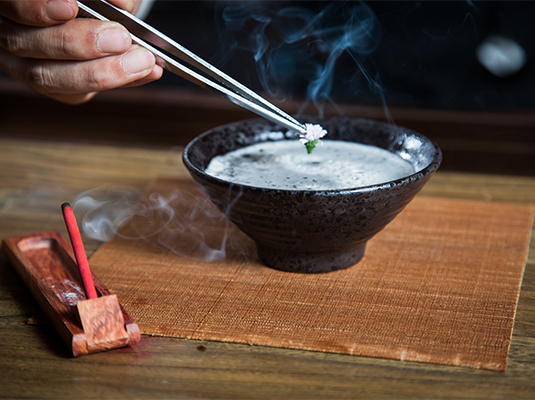 Even more influenced by classical Chinese tea culture is the Yi Ping Zheng Shan. Served in a beautiful traditional bowl, it is made with pu'er tea, long jing tea and jasmine flowers as well as black tea liqueur and a dash of syrup for sweetness. It's a drink that really captures the light, gentle bitterness and soothing smoothness of the best Chinese tea – it's also got an added kick thanks to the addition of Japanese 12 year aged Yamasaki single malt whiskey.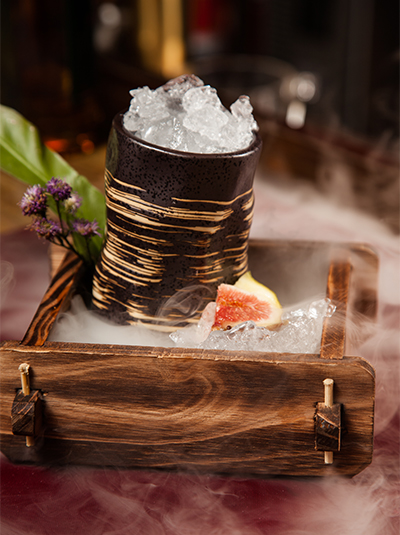 Finally, the Cai Yun Zhi Nan – another beautifully presented cocktail arriving amidst a fog of dry ice in a weaved basket – also mixes the sharp flavors of high-end hard liquor with the floral and herbal tones of Chinese tea culture. The alcohol here is Drambuie, an already herb enhanced scotch whiskey, which is mixed with jasmine tea, oolong tea, cherry rose tea and a small splash of rose syrup. It's a sweet, aromatic and almost fruity concoction, a beautifully smooth drink with a robust, complicated flavor profile.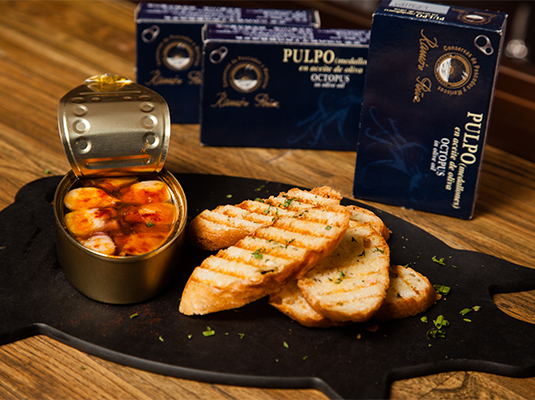 There is also a range of premium imported Spanish snacks courtesy of Ramon Pena, a company from Galicia on the North Western coast of Spain that's known for its premium seafood. One such offering is Octopus in Olive Oil, firm and flavorsome rings of octopus in a rich seasoned olive oil served alongside crisp, lightly seasoned slices of European bread.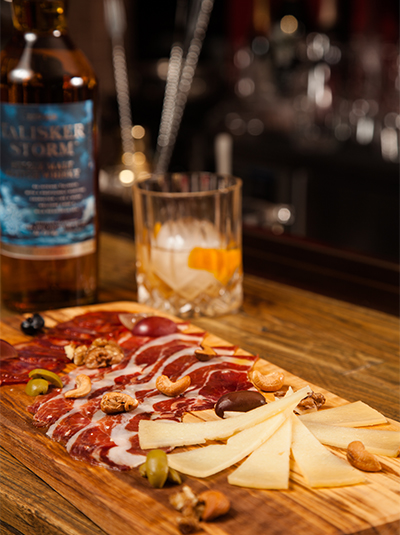 La Cocina also has a revamped menu focusing on light, Spanish tapas style bar foods to complement the bar's new laidback, cocktail focused atmosphere. Among the best options is an outstanding Spanish meat and cheese platter, a simple board of sharp, creamy manchego cheese, luscious jamon and punchy chorizo, garnished with sliced olives, grapes, walnuts and cashews.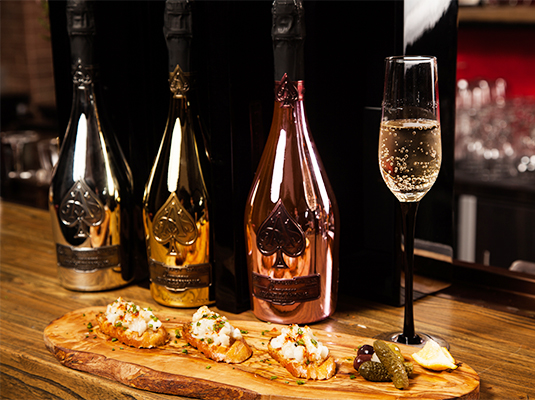 Another winner is the Flame Torched Halibut – diced and served on crisp slices of bread, the fish is juicy and mild, perfectly absorbing the mingling flavors of olive oil and sharp lemon that are used to round out the light dish.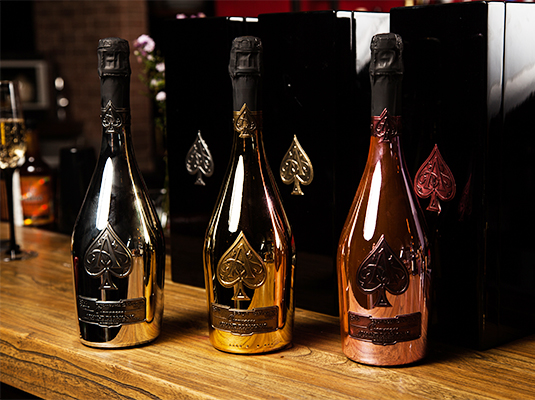 To complement the fine Spanish food, La Cocina has begun stocking some appropriately high-end drinks. Most notable amongst these is a selection of Armand de Brignac, more commonly referred to as "Ace of Spades" champagnes, served in striking metallic bottles including an opulent golden variety. This isn't the easiest champagne to get a hold of, and it's well known all over the world not only for its iconic branding but its impeccable balance and flavor. They are also offering a new extended menu of imported high-end whiskeys.
Address
9 dongping road, xuhui district, near hengshan road(徐汇区东平路9号,近衡山路)
Telephone
021 64731021