Halloween is barreling around the corner, with a truckload of pumpkins hot on its heels. This upcoming season of costumes, horror movies, and jack-o-lanterns is going to see an onslaught of restaurants dishing out their own unique take on the beloved orange squash. So here you have it, a list of Shanghai's can't miss pumpkin dishes for Halloween.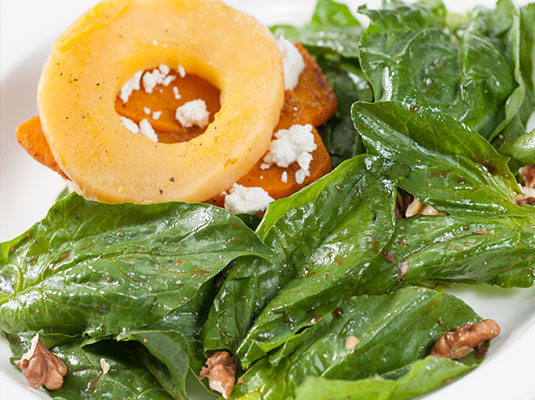 Fennel Cocktail & Kitchen

Address: 217 Zhenning Lu, near Dong Zhu'anbang Lu, Jing'an District
Tel: 021 33531773


Roasted pumpkin has a distinct aroma and flavor; their slightly charred surface and moist, fluffy insides set them apart from other roasted goodies. Fennel Cocktail & Kitchen does a really good interpretation of this classic – roasted pumpkin is paired with apples, spinach, crushed walnut, goat's cheese, then finished off with a healthy drizzle of apple vinegar. The sweetness and sourness blend well together, very light and refreshing on the palate.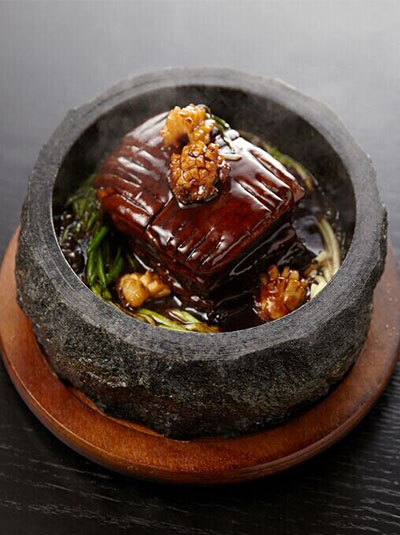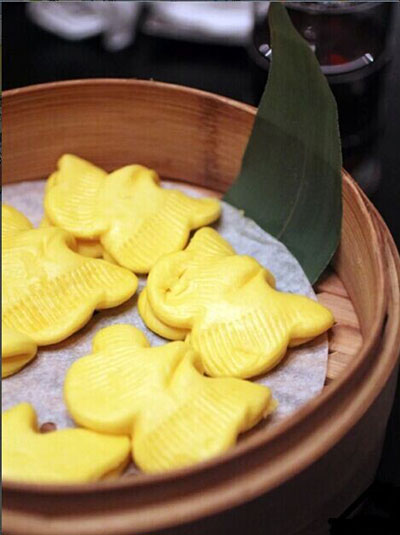 Pin Yue – Hyatt Regency Chongming

Address: Chongming Chenjia Zhen, 799 Lanhai Lu, Chongming Country
Tel: 021 67031234


Pin Yue at Hyatt Regency Chongming has an interesting dish that you have to hop over to try this coming Halloween. Their Fresh Abalone simmered with Black Pork is paired with Pumpkin Dumplings, a gorgeous marriage of sweet and savory. The pork is fat and has a great melt-in-your-mouth texture, and the abalone provides a nice counter to an otherwise too rich dish. However, just because the dumplings are an accompaniment doesn't mean they pale at all in comparison – the pumpkin filling is smooth and velvety, and along with the sticky, chewy surface, is a side dish that confidently holds its own among the mains.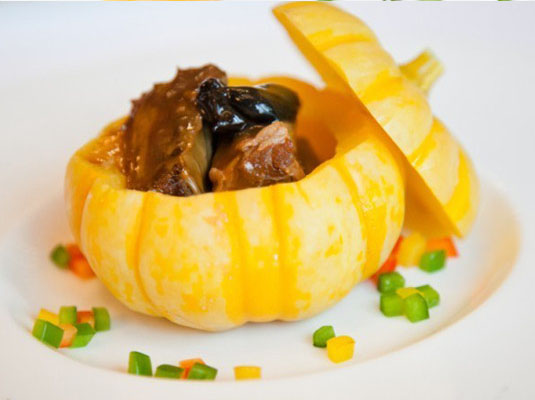 Shang Xi Chinese Restaurant

Address: 2/F Four Seasons Hotel Pudong Shanghai, 210 Century Avenue, Pudong New Area
Tel: 021 20361310

Shang Xi on the second floor of the Four Seasons Hotel incorporates the squash wonderfully into their braised beef dish. A hollowed out pumpkin makes up the bowl, and only the finest cuts of marbled beef are selected. After an extended period of stewing, the meat has softened considerably, but still retains its chewy texture; the result is a melt-in-your-mouth experience that still holds up well enough to avoid turning into mush. The pumpkin adds a subtle sweetness and fragrance that goes incredibly well with the salty, heavier sauce.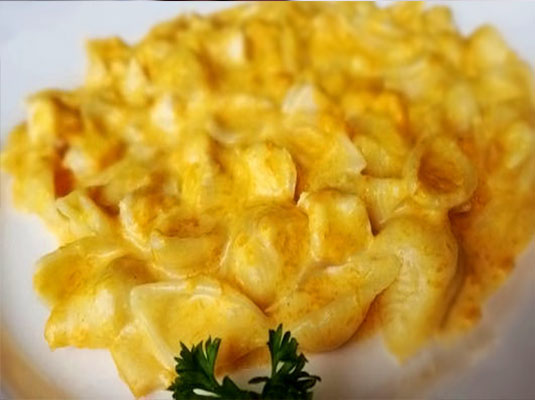 La Pasta

Address: 507, 5/F 819 Nanjing Xi Lu, Jing'an District
Tel: 021 59755888

La Pasta's Shell Pasta with Chicken and Pumpkin Cheese Sauce delivers a one-two punch guaranteed to knock the socks off any self-respecting pasta lover. The cream sauce is thick and buttery, and when infused with the milder, sweeter pumpkin, they balance each other out very well. The shell pasta adds a charming touch to the visual, as well as providing a chewy and satisfying texture.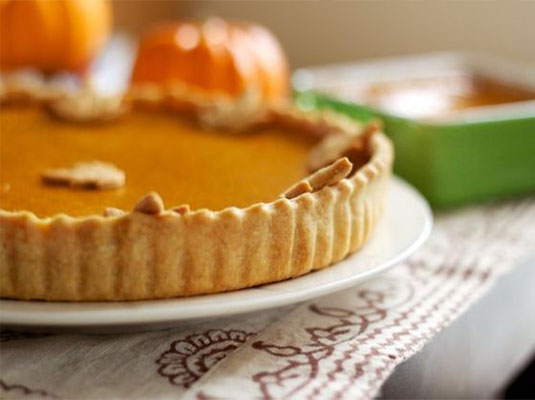 Pantry's Best

Address: Many
Tel: 4008314159

Pantry's Best is renowned for their cupcakes and pies, always filled to the brim with great quality ingredients. Their Pumpkin Pie is no exception – the crust is thick and crisp, and the filling is a mouthwatering combination of butter, cheese, and blended pumpkin. It's a velvety, smooth and crumbly, not at all rich or overly sweet.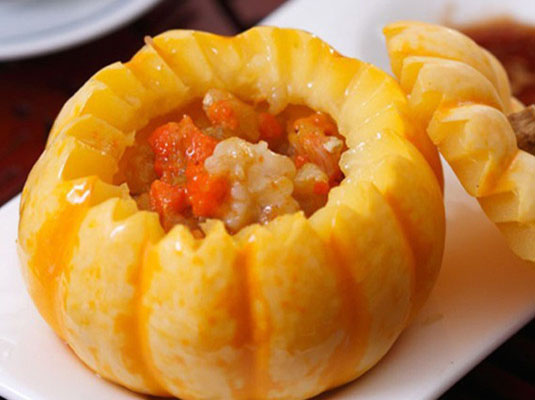 Noble House

Address: 3888 Binjiang Avenue, Pudong New Area
Tel: 021 58883999

Noble House has an adorable, Jack-O-Lantern-inspired pumpkin pot – crab meat is stuffed in hollowed-out pumpkin for a lovely seafood and squash combination. The pumpkin balances out any unwanted fishiness from the crab, and offers a nice, powdery contrast to the crab's meatier, juicier texture.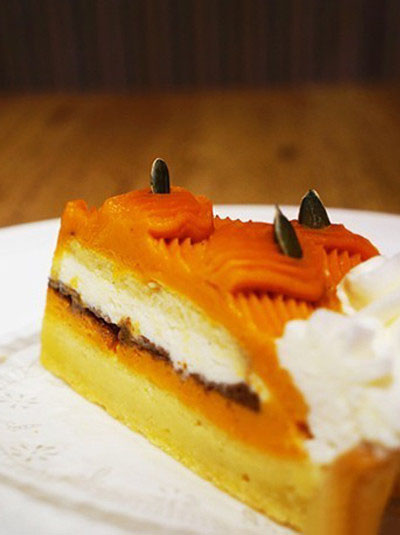 Sunday Brunch

Address: No. 1, 189 Wanping Lu, near Xujiahui Park, Xuhui District
Tel: 021 54591069

Sunday Brunch uses top-grade cream, combined with blended pumpkin, a thin spread of chocolate sauce, all sandwiched between two layers of fresh pumpkin for their gorgeous, crowd-pleaser of a Pumpkin Cake. It looks almost too good to eat, but you'll be glad you took a bite – moist, smooth, and sweet, it is perfect with a cup of coffee.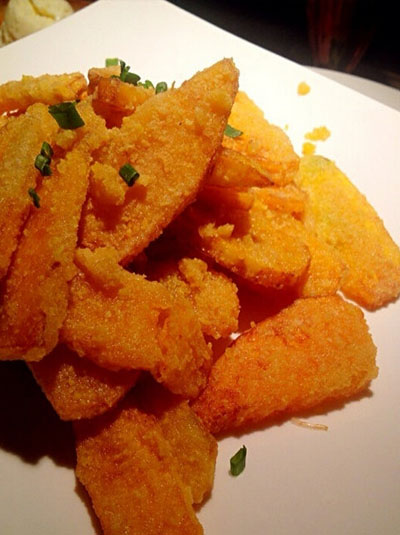 70s Restaurant

Address: Many

70s Restaurant goes down the simple, everyday home-cooking route by rolling pumpkin pieces in salted egg yolk batter, then deep-frying the mixture. What comes out is a crispy and firm, salty yet sweet snack that is delicious, immensely satisfying, and popular with both kids and the older crowd.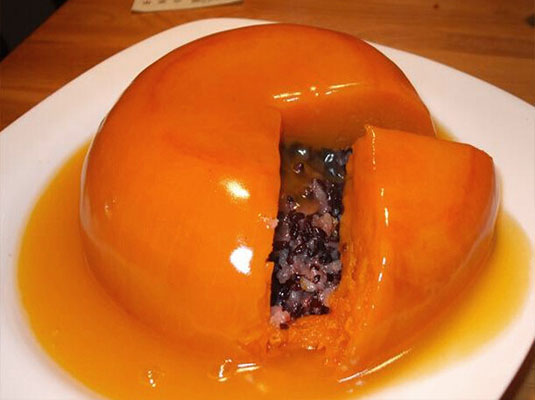 Xin Xiang Hui

Address: 4/F Yalong International Plaza, 500 Jinling Dong Lu, near Xizhang Zhong Lu, Huangpu District
Tel: 4001001717

Xin Xiang Hui has a unique, orange globe of a dish that will have you widening your eyes in wonder. Smooth, velvety pumpkin is wrapped around a generous serving of thick, sticky glutinous rice in a perfectly rounded shape, then drizzled with some lemon juice as dressing. The dish works as both a main and a dessert, and looks like a giant egg yolk, though is obviously nothing like such. The sweet and sour taste meshed with the soft and sticky texture is something you'd find hard to forget after just one bite.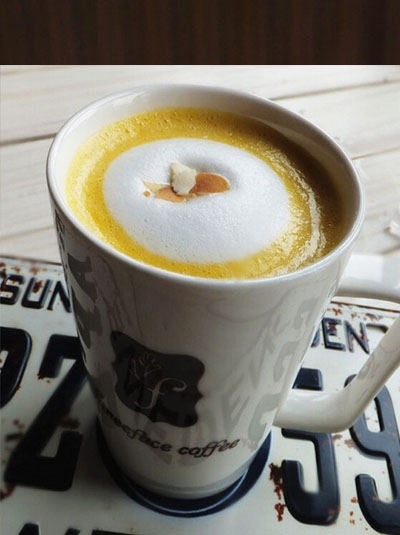 Café & Pub

Address: Many

Pumpkin and milk is an ingenious combination that more people should employ. Café & Pub serves a wicked pumpkin latte – carefully strained pumpkin juice is mixed with milk, warmed, and topped off with roasted shelled melon seeds. The milk's frothy smoothness and pumpkin's mild sweetness blends together perfectly, and is a healthier option for the coming chillier months if you're not feeling up to your usual Starbucks fix.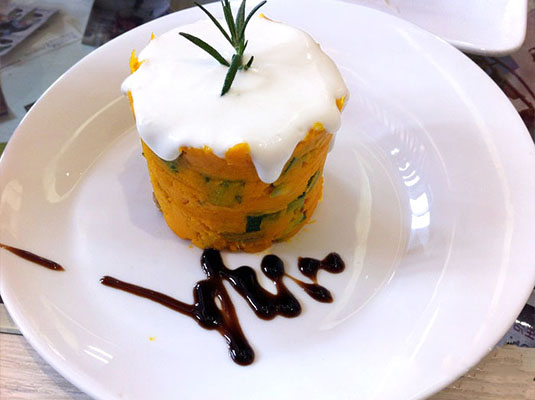 Green Mix

Address: 432 Dagu Lu, Jing'an District
Tel: 021 63391618

Green Mix tries as best as they can to use only natural, organic ingredients because not only are they healthier, they also taste better. Organic pumpkin is no different; they have a sweeter, cleaner taste that trumps the rest of the pack. Their pumpkin mould with soybean dressing utilizes steamed pumpkin that is mashed and mixed with cucumber, celery and raisins. Drizzle with some thick cream and it is the perfect blend of light and heavy.