They say birds of a feather flock together; this appears to apply to the dining scene as well. Good restaurants tend to congregate together, which is great news for us. Not only is it a lot less hassle than to have them spread across the city, close proximity means the competition is tight and quality remains high. Here are the top 10 best dining spots in Shanghai; rest assured that the restaurants here serve only the best, dedicated to pleasing even the pickiest of eaters.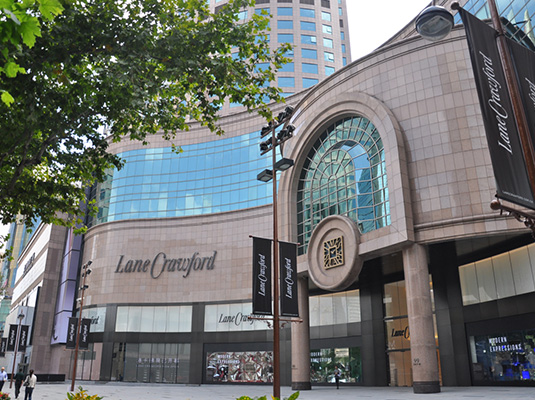 Shanghai Times Square

Address: 99 Huaihai Zhong Lu, Huangpu District

Huaihai Zhong Lu is fast rising as one of the places-to-be with their quiet serenity and beautiful tree-lined streets. Shanghai Times Square is sat on such a lovely location, filled with flashy boutiques and well-known brands. Other than shopping, the venue also provides a great selection of restaurants for the hungry customer.

Premium Cantonese restaurant Han Li Xuan, Japanese restaurant Umaya, comfortable loungy dessert shop mizzi, Made in HK Restaurant which serves classic Hong Kong favorites, easygoing Western delight Deli&Leisure, French pastry shop ANGELINA, trendy Thai concept Thai In, cooked Delia that focuses on molecular gastronomy, are among some of the options one is greeted with. No matter if you're feeling for a large meal with all the works, or a dainty afternoon out with good coffee and good company, you are spoilt for choice here.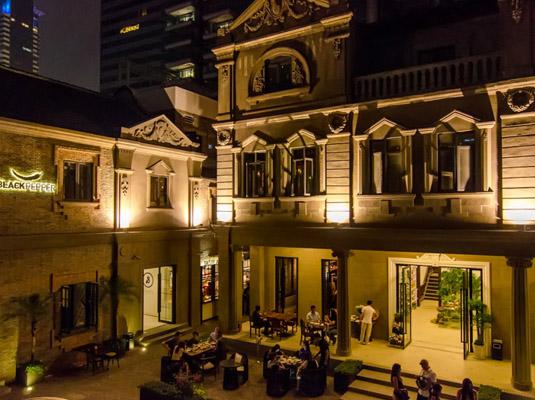 99 Taixing Lu

Just pass Wujiang Lu is a lovely little alcove surrounded by villas and shikumen architecture; this is 99 Taixing Lu. China's very first Southeast Asian-themed bar, Starling, can be found here, as is Turkish restaurant Black Pepper, Taste&See who boasts a Michelin-star chef, and Petit that offers some of the freshest seafood in the city. With their careless and laidback vibe, the area is a great place to spend a casual afternoon treating your tummies to all manners of gastronomical delights.
Xintiandi

Address: 245 Madang Lu

Affluent car-free shopping and dining district Xintiandi is one of those laidback, easygoing locations that everyone gravitates towards. No one would claim to be satisfied with just one visit, and with traditional shikumen houses, narrow alleyways and an explosion of restaurants, boutiques, and adorable little cafes, it is hard not to see why. We've got lovely little eateries like Scream Frozen Yogurt, sashimi and seafood galore at Kitchen Dazzle, European W Bistro & Bar, BACCO that serves great Italian fare, and authentic Southeast Asian restaurant Aniseed Saigon to tempt your taste buds.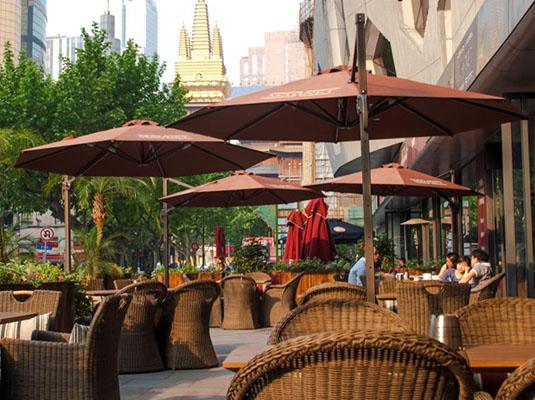 1788 Plaza

Address: 1818 Nanjing Xi Lu

1788 Plaza is located on 1818 Nanjing Xi Lu, a stone throw away from Jing'an Temple, housing a whopping variety of street bites, restaurants, cafes; you name it, they've got it. The basement and first floors especially, are a foodie's dictionary definition of heaven. They've got pork ribs and cocktails powerhouse Magnet here, offering a DJ Night on Fridays and Saturdays, definitely a venue you won't want to miss checking out.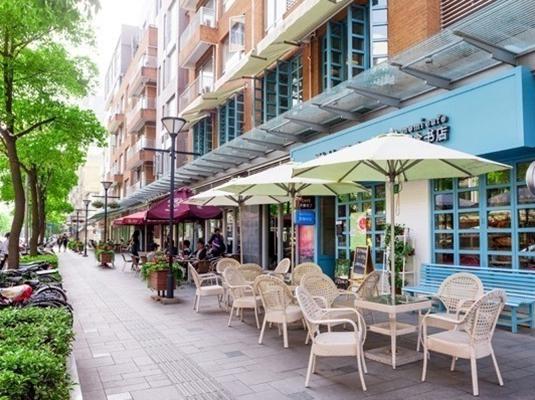 Daxue Lu

Daxue Lu is a long stretch of road passing through the KIC Plaza and Fudan University, with a similar concept to USA's University Avenue, filled to the brim with artsy alcoves and kooky corners, flea and farmers markets, graffiti-strewn walls, you get the drift. American diner AGOGO Kitchen & Bar and Mexican TOGO TACO can be found here, as is Italian fiesta Uni+Bistro, Japanese izakaya Kadomatsu – they've got a perfect blend of university students-affordable and white collared-centric venues, well worth an afternoon of wandering and exploring.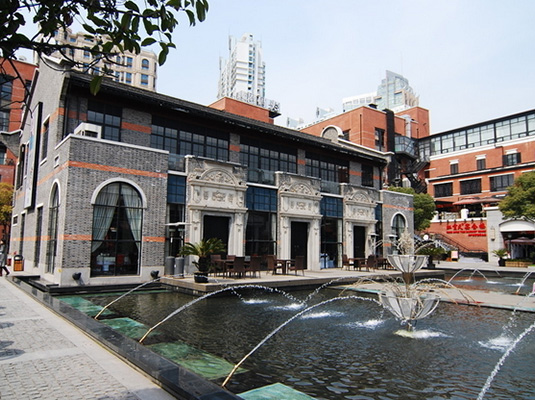 The Cool Docks

The Cool Docks is one of the newer entertainment districts in Shanghai, very popular because of their elective blend of old meets new. Traditional architecture and old shikumen house snazzy bistros and lovely lounge bars; it's an area where you can indulge in your cultural side over a quick cup of coffee or an elaborate meal. Prominent steampunk restaurant Vespertine and Michelin-star French restaurant Le Sept, both wildly popular newcomers are located here.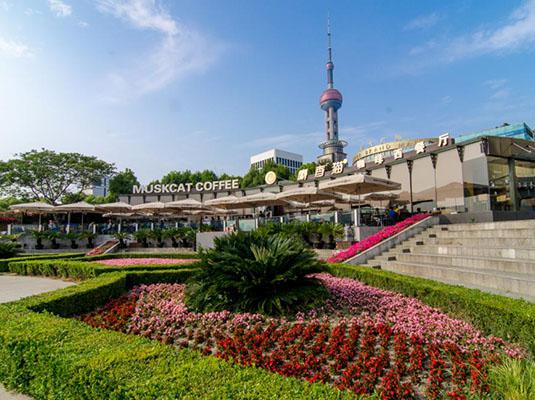 Binjiang Avenue, Lujiazui

Binjiang Avenue is a lovely stretch of road hugging the Huangpu River and surrounded by Lujiazui skyscrapers. Musk Cat Coffee's flagship store, TAVOLA that serves authentic Italian cuisine, seafood restaurant To The Sea, classy and popular The Kitchen, as well as Shanghai's most popular German beer fix Paulaner. Take a stroll down the avenue, enjoy the balmy breeze, and treat yourself to some premium, quality dishes in some of Shanghai's best haunts.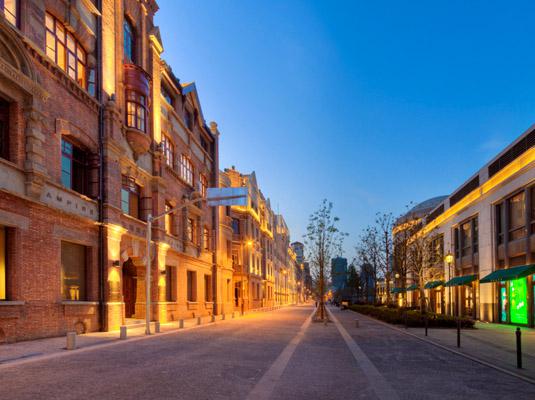 The ROCKBUND

How can anyone leave out The ROCKBUND while on the topic of good dining spots? This iconic location houses some of the most prestigious restaurants in the city. We have romantic French concept Paris Rouge, premium hot pot chain Faigo Hot Pot, Ippin Sashimi boasting a gorgeous terrace and even more gorgeous seafood, and Italian delight 8 ½ Otto e Mezzo BOMBANA are some of the fine-dining restaurants you will find here. With good food, and arguably the most beautiful view in Shanghai, which only grows lovelier as the sun sets and Pudong's lights come twinkling on, you will be hard pressed to find a better location to wine and dine.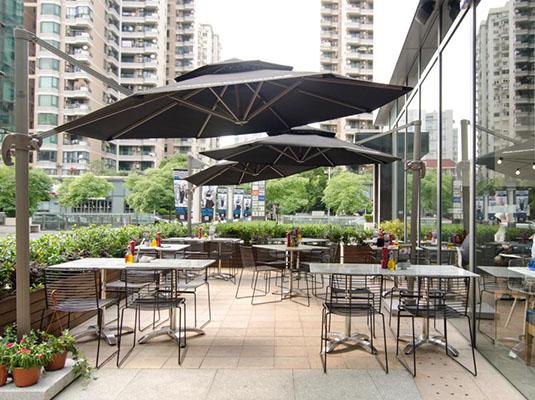 Yongxin area, Xujiahui

Address: 131 Tianmuqiao Lu

The Yongxin area has seen a recent rise in popularity since the many additions of quality eateries. With a nice selection of western and eastern fare, dotted with pastries and dessert shops, this is a great area to spend an afternoon or two in. UK-imported Pizza Express and Hong Kong restaurant Tsui Wah can be found here, as well as popular sweets shop He&She and popular bar Blue Frog. Most venues boast charming little terraces that are great for sunny afternoons and a spot of people-watching.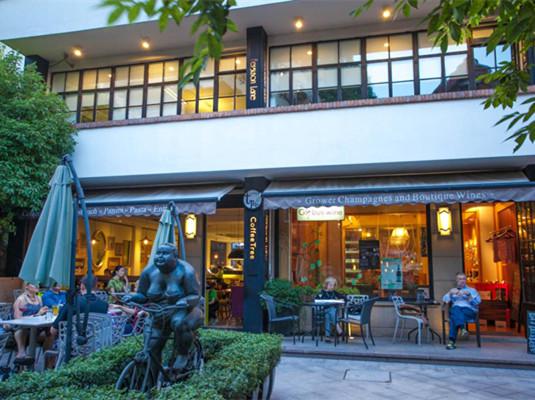 Ferguson Lane

Tucked away in a quiet corner of the former French Concession area, Ferguson Lane is a treasure trove of exposed bricks and old white villas intersected with loads of snappy hangouts and elegant little joints. Forest-themed café Coffee Tree and Paris-inspired Franck Bistrot are some of the unique finds that customers will ultimately stumble across on a leisurely amble through the area. The tree-lined streets are tranquil and quiet, very different from the sometimes manic energy that on occasion overruns the rest of Shanghai.